So you chose to spend your holidays in Brittany, what a great idea! Forget everything you've heard about the rainy weather and come and discover the region's natural and cultural treasures. To begin our series on Brittany, we take a look at the best things to do in Morbihan.
The Carnac stones
It may be a classic but it's impossible not to mention this incredible natural phenomenon, the Carnac stones. Dolmens and menhirs stand proudly before you at a number of different sites including Kermarion, Kerliscan and Le Menec. Take the Menec alignments, for example, where 1,099 menhirs are erected over an area of land that is 1,165 m long and 100 m wide.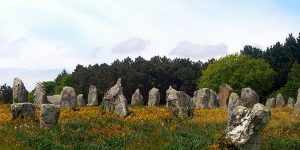 Petites Cités de Caractère
Petites Cités de Caractère is a tourism endorsement awarded to picturesque French villages of particular beauty or interest. Small towns and villages must fulfil certain criteria to qualify for the title, and they can be recognised by a sign displayed as you approach them. Morbihan counts five Petites Cités de Caractère – La Roche-Bernard, Rochefort-en-Terre, Guémené-sur-Scorff, Malestroit and Josselin. We'll be looking at these picturesque villages in more detail in a forthcoming article.
Vannes, Art & History town
Vannes is a beautiful town to visit, both by day and by night, against the impressive backdrop of its historical buildings. With its famous city walls, timber-panelled houses, beautiful public gardens and its harbour, Vannes is a delight to discover, either by strolling through the cobbled streets or by hopping on the little tourist train which will show you all the sights.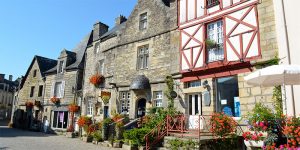 Lorient and its festival
A list of Morbihan's must-sees wouldn't be complete with mentioning the well-known Lorient Inter-Celtic Festival. Although you need to be in the right place at the right time to enjoy it! The festival takes place every year at the beginning of August and features around a hundred Celtic music performances, exhibitions, and even Breton language lessons. If you're a fan of bagpipes and binious, as the locals call them, then you won't want to miss it.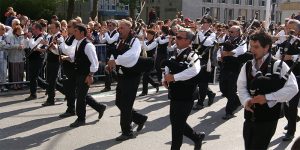 Where to stay in Brittany to see the sights in Morbihan
We have a selection of beautiful luxury villas in Brittany to ensure you get the most out of your stay in the region. Choose a luxury french villa to rent, a holiday cottage or even a chateau, for a typically French holiday. Our larger villas can accommodate up to 20 people, perfect for holidaying with family or friends.